The Virtual Collaboration Deck is a deck of 9 double sided cards that could facilitate virtual meetings creating a easy communication protocol across all participants.

I don't want to enter here in the discussion about non-verbal communication, its percentages in people interaction (30,40,60%…) and how this has been impacted by the current situation where everyone is working alone, only virtually connected with others. It is however out of any doubt that non-verbal communication is really hard to reproduce in pure virtual environments and we, as human, miss this a lot.
That's why I was exploring different ways to activate it within teams. Cards immediately appeared as a good idea and also as a perfect example of gamification (yes, this is not serious gaming).
Cards can provide one more reason to activate video connection (sometimes not so easy, but this is about Psychological Safety) and also to interact with the meeting without interrupting too abruptly the flow of the conversation. During in person meetings there are plenty of these situation (one for all? nodding with your head when you agree)
The best example of such a deck I have found on the market is the "Supercards" deck from Lisette Sutherland's "Collaboration Superpowers" (link) that I strongly suggest to experiment.
I've used this deck for months (ask my team mates!) and I have identified some situations/ideas to create my own deck. Here is when the experience as a game designer can be helpful.
Below the attributes of this new deck:
A deck easy to transfer and print (ideally a 1 page PDF < 1MB)
Black and white (not grey scale or coloured) to maximise visibility towards awful laptop cameras
Standard icons, but also a short description in case of different cultures (diversity)
Standard paper should be used (matt and not gloss paper to minimise reflex)
A Low Ink version easy to Print and Play at home with cheap printers
Be sure what was the card showing, so need a recall on the back of each card
Want to optimise the usage of the single page, so moved to a double sided solution
Card and recall should avoid confusion (particularly critical in double sided cards)
Here, as example, one of the 9 cards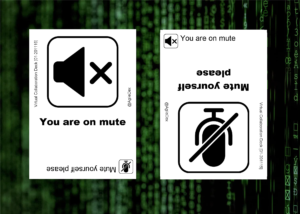 As you can see the card is upside-down to be clearly used front-back (even if in this configuration there is no back or front). This solution seems to be very effective to be used in other games too. 😀
Moreover you can find all above attributes.
This version of the deck collect the following collaboration cards
| | |
| --- | --- |
| Side 1 | Side 2 |
| You are on mute | Mute yourself please |
| Cannot hear you | Your voice is disturbed |
| I like this | I don't like this |
| Awesome | Hello everyone |
| Cannot see the screen | You look frozen |
| Hear some background noise | Thank you |
| Need a break | Must drop off |
| I've something to say or ask | Ok for me |
| ELMO (Enough Let's Move On) | Slow down pls |
If you like the idea, you can download the deck (link), use it and provide your feedback in the comments below.
I hope this could help you and your team to move to a better level of collaboration.
Deck is also available on DriveThruCards portal (link)

All related articles here (link)